PAY ON DELIVERY
You can pay for your order at the time of delivery to you at the distributor (ELTA Courier). Payment is made in cash. No credit card required.
COD charge 2€.
CREDIT – DEBIT – PREPAID
Free Shipping on any order, any amount! By paying for your order with your credit, debit or prepaid card in a secure environment.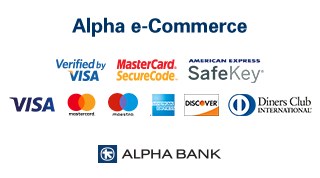 – Secure Transactions: All payments made using a card are processed through the electronic payment platform "Alpha e-Commerce" of Alpha Bank and uses TLS 1.2 encryption with 128-bit encryption protocol (Secure Sockets Layer – SSL). Encryption is a way of encrypting information until it reaches its intended recipient, who will be able to decrypt it using the appropriate key.
MASTERPASS
With the Masterpass option as a payment method for your order, you have the opportunity to use your bank's e banking application to approve your purchase, directly from your smartphone:
After selecting Masterpass as your payment method, you will be redirected to the approved Masterpass website.
Then select the bank you want, fill in your personal wallet details (my Alpha wallet). If you have previously selected the wallet of your choice, skip this step.
Finally, you will receive a notification in the e banking application ("digital wallet") to approve the payment and now your purchase is completed.
Online purchases using Masterpass are made with the guarantee and know-how of Mastercard's global payment network. By storing all your cards and addresses in the digital wallet of the partner bank of your choice, the online payment platform from Mastercard makes online checkout a special experience for you.
For more information visit Masterpass.gr

BANK DEPOSIT
You can pay the amount of your order by bank deposit in the following account, noting your name in the reason:
ALPHA BANK IBAN: GR9801401020102002320005060
BENEFICIARY: Katsouri Marianthi-Anastasia
* You must write as a reason the number of your order and your name. Then you must send us the email proof@fashionsteps.gr the proof of deposit.